The conversational AI squad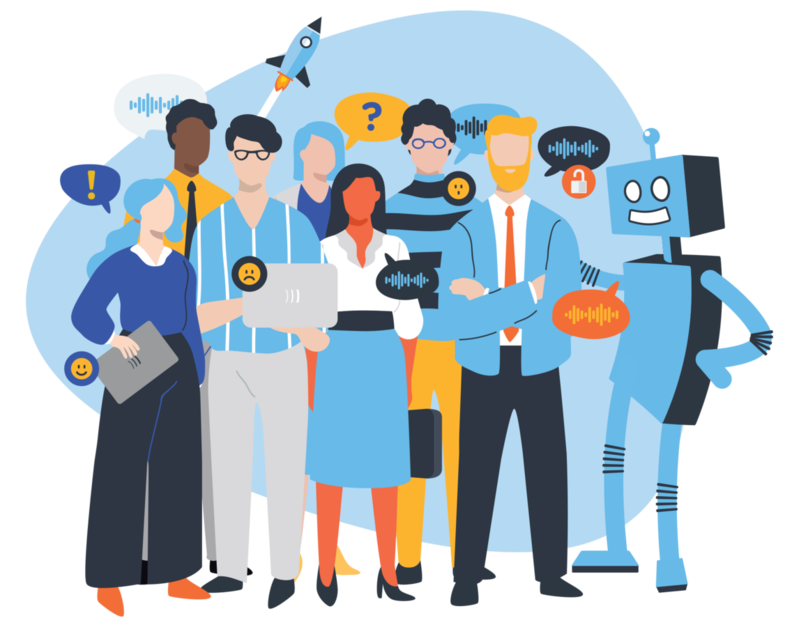 Are you strategic and efficient in your conversational automation projects?
Several recent studies show that conversational automation is a clear trend, and many companies are planning significant investments in their transformation plan. In order to remain in the lead and provide an exceptional customer experience, many companies want to accelerate their initiatives to modernize their Customer Relations Center in order to seek significant benefits as quickly as possible. This modernization is possible in particular thanks to Natural Language Understanding (NLU) technologies and conversational AI applications.
The solution : The Nu Echo conversational AI squad
Nu Echo's Center of Excellence offers a squad of experts to plan and deliver your conversational projects. We offer you an optimal support and delivery model, including processes, end-to-end methodologies and quality control. Our teams are made up of highly qualified experts who will allow you to maximize the quality of your applications and complete your projects within budget and on time, for all of your strategic initiatives in conversational automation.
We change the conversation
At Nu Echo, we create intelligent conversational automation solutions to enhance your user experience and improve operational efficiency. We work with you to propel each of your channels of interaction into the future, generating more relevant and responsive conversations that help you build relationships with your customers and grow your business.
Need information about our services?
Nu Echo offers you a free consultation hour in conversational automation! To do this, complete the form below so that a member of our team can contact you.
SPEECH RECOGNITION AND NATURAL LANGUAGE UNDERSTANDING (NLU)
 APPLICATION DEVELOPMENT ON CONVERSATIONAL PLATFORMS
C CONVERSATIONAL USER EXPERIENCE DESIGN (VOICE AND TEXT)
TELEPHONE / CC ARCHITECTURE AND INTEGRATION
CONVERSATIONAL PROJECT MANAGEMENT
OPTIMIZATION OF NLU, DIALOGUE AND USER EXPERIENCE
QUALITY CONTROL AND TESTING
The benefits of working with Nu Echo
   Business 
The commitment of the management team
Quick start on your projects
Minimize investment costs to implement your conversational solutions
Agility, allowing quick adjustments to customer demands and industry changes
Risk reduction with an established team with a great track record on major projects
Transparency and visibility on projects, priorities and budgets
Progressive and efficient knowledge transfer
   Expertise et technology
Access to cutting-edge expertise to counter the scarcity of expert resources
Optimal collaboration and communication on projects
Multilingual skills
Unparalleled optimization knowledge to make your solution hyper-efficient
A proven methodology
Knowledge of platforms 1 and industry trends.
1 Including Nuance, Rasa, Google Dialogflow and Omilia. Nu Echo has also developed several conversational devices for internal needs, including Metabot.
What sets us apart
Ce qui nous distingue de la compétition
Unique multidisciplinary expertise that makes all the difference in your projects.
Over 20 years of experience in speech recognition and natural language understanding, interactive voice response (IVR) and design and implementation of intelligent conversational experiences. 
The reliability of our work
A rigorous approach in design and development for assured peace of mind
Unsurpassed optimization capacity
Unparalleled know-how to make your solution as efficient as possible
An absolute mastery of the best natural language understanding and dialogue management technologies.
The Nu Echo guarantee for what we deliver
Exclusive tools
To maximize the evolution of your system. All developed by our exceptional and versatile team of experienced developers.
Let's talk
Contact us today to start a discussion about your customers' experience or your voice application needs.