Nu Echo : A Nuance Expert for 17 years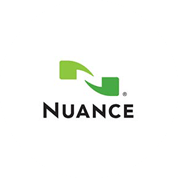 As pioneers in conversational AI, Nuance has spent decades quietly revolutionizing human interactions with technology, becoming a trusted partner to 85% of Fortune 100 companies.
Nuance leads innovation in conversational AI, making intuitive, award-winning technology that adapts to each business and every unique situation. Nuance solutions don't just hear and speak. They understand, analyze, anticipate, reason and resolve. They don't just make life easier; they make it easy to achieve—and exceed—your goals.
Nu Echo: A Nuance expert for 17 years
No company in North America understands Nuance technologies than Nu Echo. For the past 17 years, we have not only deployed multiple Nuance-based solutions, but we constantly perform tests with the Nuance technology and compare it with competing technologies on a wide variety of speech recognition and natural language understanding tasks.
In fact, companies across North America come to us when they need to optimize the accuracy of their Nuance based IVR solutions.
Nuance technologies for conversational IVR
When building advanced conversational IVR solutions, speech recognition and natural language understanding accuracy matter. And when accuracy matters, then Nuance technologies is the clear choice. The Nuance technology is not only state-of-the-art, but contrary to competing technologies, it can be highly optimized for a given domain and conversational context so that we can deliver the best conversational experience and success rates achievable.
 Nuance voice biometrics solutions
The undisputed market leader in biometric authentication, Nuance pioneered the use of deep neural networks (DNN) for authentication and fraud prevention. Nuance now leads the market in the number of enrolled voiceprints at 300 million by the end of 2017, with over five billion transactions handled.
With the latest Security Suite release, Nuance supercharges its fraud prevention capabilities while moving even farther ahead of all challengers in authentication.
Nu Echo is pleased to offer a 1-Hour Free consultation with one of our experts. 
Let's discuss your conversational automation projects and explore what we can do for you.
Get in touch
The platforms and technologies you use make all the difference. We can help. Fill out the form below and we'll get back to you soon.